Angela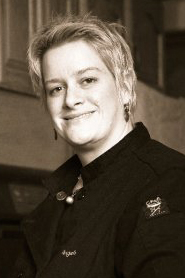 My passion for food started very early in life, when Sundays were always home cooked meals and family dinners. Holidays were spent with family and everyone took their turn in the kitchen, making whatever their favorite dish was to share at the table with twenty plus people.
I started working in the restaurant industry and was exposed to really great food, but my passion for healthy food started even later when I got involved in the natural and real food movement.
When my children started school, I returned to the restaurant industry in Chicago and began focusing my studies on early childhood education, where the importance of healthy, good food for children became so evident.
After relocating to the San Francisco Bay Area, I began working for some local catering companies, but soon decided to branch out on my own and formed "Life's a Feast." Carolyn and I returned to the Midwest in 2008 with the goal of establishing our catering/private chef company and settled in the Dubuque/Galena area.
We live on the rolling hills of the Mississippi Valley and we are working at turning our land into a thriving hobby farm full of fresh produce and gardens and, of course, plenty of animals. In March, I returned to school at the Institute for Integrative Nutrition to receive certification as a Holistic Health Coach, with a goal of helping others attain a happy and healthy life through good nutrition and a balanced life.
---
Carolyn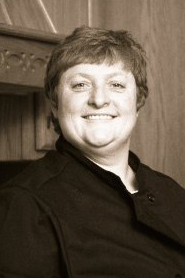 Born number 6 of 7 children in Northern Illinois, I believe my relationship with food began with the joy of spending time with my Grandmother on rainy summer days in her kitchen on Lake Geneva. Both my Mother and my Grandmother were great bakers and good cooks. Their food was basic but flavorful and healthy. I came from a home that was not normal for the 70's. My family, in today's culture, would be labeled, "granola" or maybe "hippie". Fresh fruit, vegetables, farm raised beef, homemade yogurt, peanut butter and bread. I was the child in the lunchroom with cucumber slices, an apple, a chicken sandwich from the roasted chicken the night before and yogurt. When I look back, I realize that my family ate what was in season not only for the healthy reasons, but mostly for the monetary reasons.
Over the course of 20+ years, I had the opportunity to work with some the restaurant industry's most talented Chefs and Sommeliers in San Francisco and Chicago. My passion for food and drink lies in the joy I receive from providing my clients with an experience to remember several years down the road. From great bar food to four star restaurants and high-end caterers there is a theme; fresh food. After many years of running someone else's establishment, Angela and I opened Life's a Feast in San Francisco as a small private catering company.
---
Together, we bring a combined 40 years of experience in the restaurant industry to their company, Life's a Feast. Focusing on 'buy fresh and buy local', seasonal and sustainable whenever possible, we strive to take advantage of the local farming here in the heartland. Life's a Feast offers a wide variety of services including Personal Chef and Private Dinners or Cocktail Parties, Fund-Raisers, Rehearsal Dinners, Corporate Retreats, Corporate Lunches and Dinners.
Angela also offers six month holistic health coaching for individuals and seminars and public speaking for groups and corporate wellness.
We look forward to serving you so that you can enjoy "Life's a Feast."